Building and sustaining competitive advantage is the only route to survival and growth for organisations across industries. More so in these times of global calamities. Customer Centricity has taken centre stage as the most powerful lever for building this advantage.
Slick "human" marketing and communication strategies alone, cannot win customers anymore. Customer now absolutely expect the marketing promises to be converted into actual experiences. Every time that the experience does not deliver on the promise, customers are likely to move on to a competitor. They are discerning, impatient, and spoilt for choice, and rightly so. If they are paying for an experience (the product and the experience) they deserve to get it every single time.
What then is the strategy that organisations can adopt as part of their DNA and not just as a flavour of the month "customer scheme", to take the lead in being customer centric?
Design thinking*, an ideology as well as a process, concerned with solving complex problems in a highly customer-centric manner has emerged as one powerful "way of life" for organisations to keep customers loyal.
It revolves around a deep interest in developing an understanding of the customer for whom the products and services are being designed; challenges assumptions; reframes the problem in human centric ways; and adopts a hands-on approach in prototyping and testing. In this way, design thinking provides a solution-based approach to solving problems which further leads to innovation, differentiation, and competitive advantage for the businesses.
Process of Design thinking: Design thinking is an emergent and iterative process that consists of 6 distinct phases:
Empathize: Conducting research to develop knowledge about what users do, say, think, and feel.
Define: Combining all the research and observing where the users are experiencing problems. This helps in understanding the expectations and unmet needs of the users.
Ideate: Brainstorming a range of crazy, creative ideas that address the unmet user needs. Ideas are then shared with the entire team to mix, remix, and build on each other's ideas.
Prototype: Building real, tactile representations for a subset of the ideas generated in the previous phases i.e. involves creating innovative solutions for the users.
Test: Returning to the users for feedback by putting the prototype in front of real customers and verifying whether it achieves the desired goals or not.
Implement: Ensuring that the developed solution materializes, and touches lives of the customers.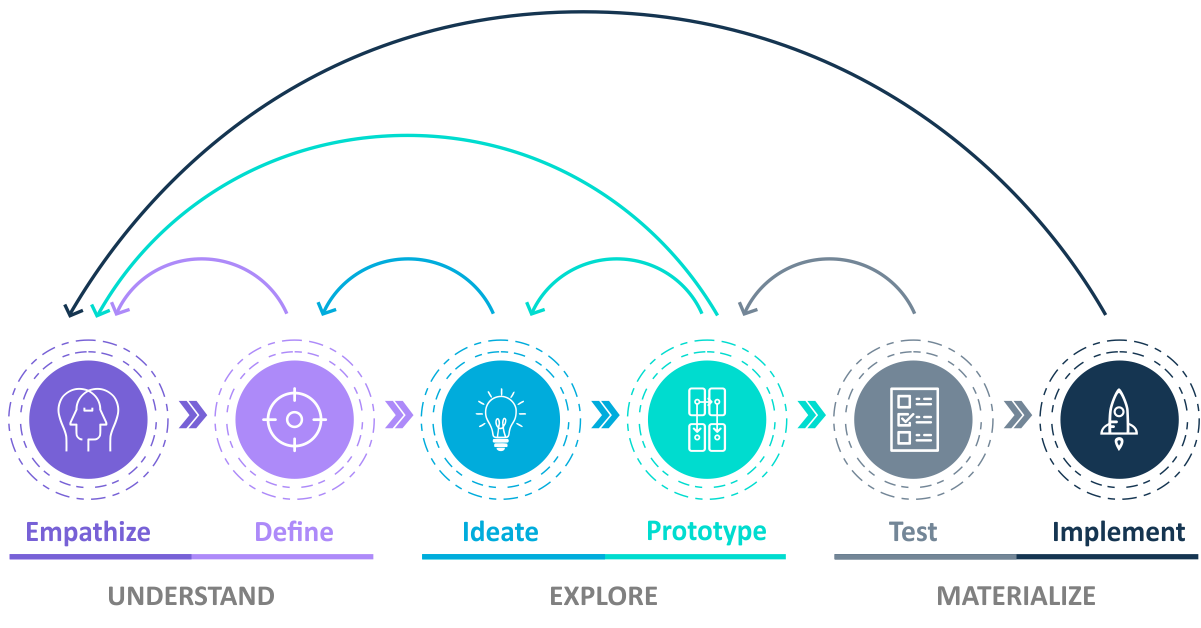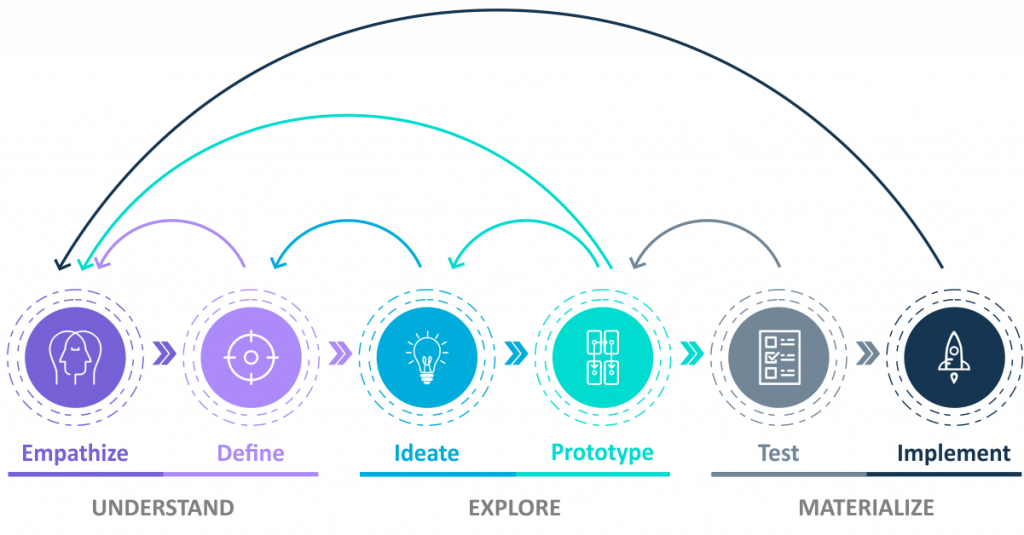 Advantages of Design Thinking and its impact on Customer Experience
Some of the critical advantages of adopting the design thinking approach are:
It is a user centred process that adopts a customer perspective: Design thinking starts with user data, creates design artifacts that address real and not imaginary user needs, and then tests those artifacts with real users. It encourages businesses to focus on the customers for whom they are creating for, which then leads to development of better products, services, and internal processes.
Generates holistic and empathetic understanding of the customer problems: Design thinking focuses on the context in which users operate and the problems & obstacles that they might face when interacting with a product. Due to this, businesses can design experiences that differentiate themselves among brands, keep up with real-time consumer expectations, & build an empathetic alignment with the end user. For example, traditional value proposition is a promise of utility wherein automaker promises that you will receive safe & comfortable transportation in a well-designed high-performance vehicle. In contrast, an emotional value proposition is a promise of feeling wherein automaker promises that you will feel pampered, luxurious, & affluent.
Facilitates analysis of customer needs: By using design thinking, businesses make decisions based on what future customers really want instead of relying only on historical data or making risky bets based on instinct instead of evidence. For example, video communication app 'Zoom' quickly analysed the needs of the customers & worked hard to make the app more customer friendly- developed several pandemic special pricing plans, introduced features like 'blur background' to make video chats comfortable for customers and quickly resolved security & privacy issues raised by the customers.
Encourages innovation by exploring multiple avenues for the same problem: Design thinking encourages organisations to move beyond what is typically assumed and helps to look at a problem from a novel standpoint. For example, businesses like Big basket & Grofers demonstrated innovation by shifting the grocery shopping experience online and making it possible for customers to order anytime and from anywhere.
Builds creative confidence: The techniques of design thinking can unlock mindset shifts that lead people to see themselves as creative. People come to a place wherein they understand what is going on and believe that they can set out to do what they want to do—and that's creative confidence.
Conclusion
From the above-mentioned statements, it can therefore be concluded that design thinking is one of the best tools that organisations have for creating exceptional customer interactions and developing a responsive, customer centric organizational culture.
Keeping this in mind, InspireOne, which has been doing some innovative work in customer experience since the past 20 years, has developed a new solution 'Design Thinking for Customer Experience' that will help its participants apply the design thinking process to create innovative customer journeys.
If you would like to know more about this solution, feel free to get in touch with us!
You can also watch out for Part 2 of this series which is about "6 Things to Keep in Mind while Leveraging Design Thinking in Customer Experience".
References
World Leaders in Research-Based User Experience. (n.d.). Design Thinking 101. Retrieved September 25, 2020, from https://www.nngroup.com/articles/design-thinking/
Panel®, E. (2020, August 07). Council Post: Seven Ways Design Thinking Enhances Customer Experience. Retrieved September 25, 2020, from https://www.forbes.com/sites/forbesagencycouncil/2020/08/07/seven-ways-design-thinking-enhances-customer-experience/