As promised, we are back with Part 2 of our blog series 'Power of Design Thinking & its impact on Customer Experience'.
Mentioned below are 6 key things that you must keep in mind while leveraging design thinking in customer experience.
1. Prioritise Customer Perspective: Design thinking involves keeping the customer first. This means understanding and resolving the core customer pain points and building exceptional experiences around it.
2. Create Personas to 'Know the Customer': Personas are designed to solve customer pain points and build solutions aligning with their expectations. This is done by gathering data about them through meaningful and insightful procedures. The obtained data is then used to create customer persona which includes an image of the imaginary customer, demographic profile, attributes, and motivations, needs, pain points, and actual customer quotes.
3. Empathy Mapping: Empathy mapping is a collaborative approach to determine what consumers 'think', 'feel', 'say', 'do' and thus provide an understanding about the different aspects of the customer's experience and preferences. Such maps help in reaching closer to the consumer's emotions, belief systems & behaviours.
4. Customer Experience Journey Mapping: Multiple touchpoints, both online and offline, exist in a digital world. Due to this, it becomes significant for businesses to understand the entire journey and lifecycle and craft delightful experiences throughout. Customer journey maps help in this as they aid in developing an understanding about consumer needs and pain points across every touchpoint and hence creates experiences that are in line with those expectations.
5. Create Product Roadmaps and Prototypes: While customer journey maps explore the problem space, product roadmaps and prototypes focus on the solution aspect. Businesses should build processes to manage these prototypes in an innovative & agile way, through frequent feedback from users, with a focus on developing exceptional customer experiences and business value.
6. Product Testing with End User: Simulated environments are created for users to experience the products and then the user interactions can be measured with various tools like heat maps, touch maps, screen flows, user analytics platforms, etc.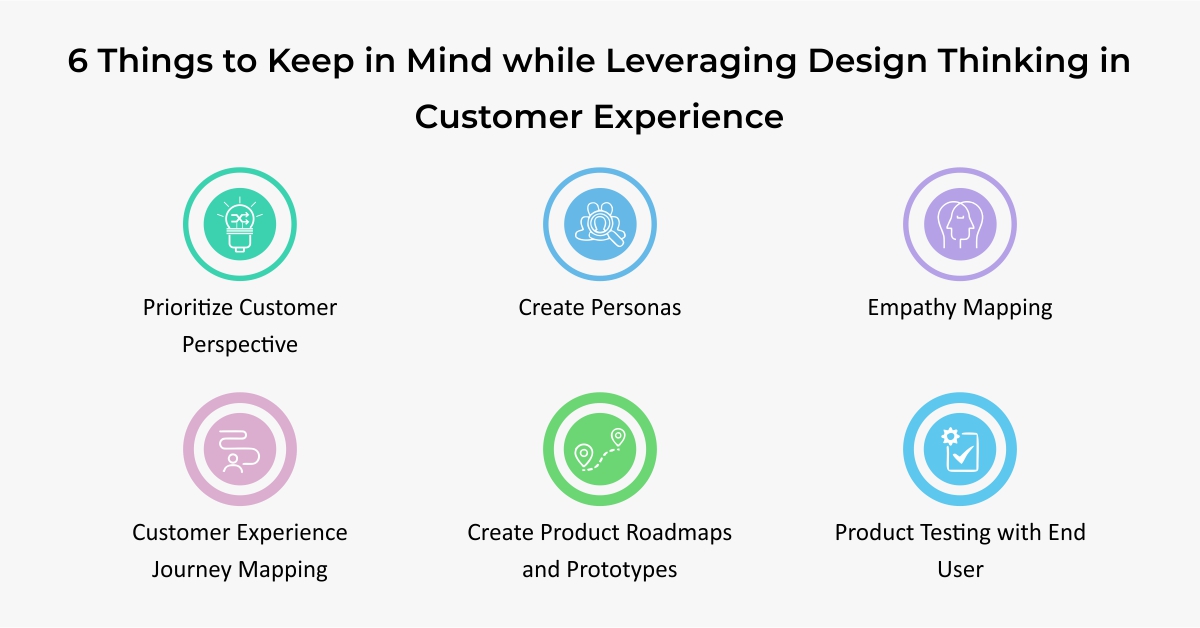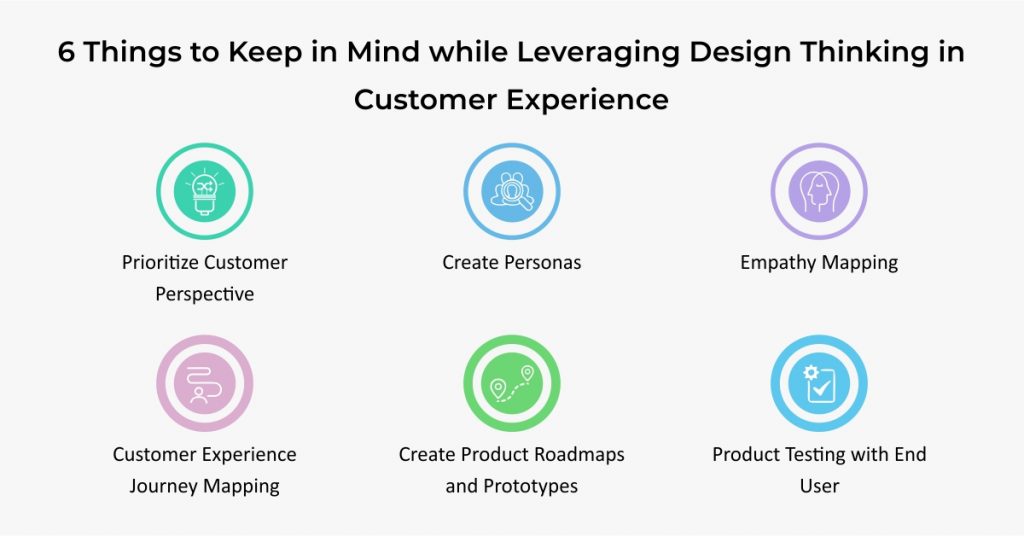 In alignment with these 6 things, InspireOne, which has been doing a lot of work in customer experience since the past two decades, has launched a new solution 'Design Thinking for Customer Experience'. This program typically focuses on equipping the participants with the concept, tools & techniques of design thinking which will then enable them to create innovative journeys for their customers.
If you would like to know more about our current customer experience offering, feel free to contact us!
 Reference
Customer Think, Chatterjee, S.G. (2019, February 19). How Design Thinking can help businesses craft delightful customer experiences. Retrieved September 25, 2020, from https://customerthink.com/how-design-thinking-can-help-businesses-craft-delightful-customer-experiences/